Walks: Hood, Pickleball court
Distance: 3 miles daily. 2-3 hours of pickleball daily, exercise class and 1 on 1 Training
So one of Ciwt's family mottos was "Do Something even if it's wrong!" In that vein she thinks she should write something about her Chicago trip.
Well, it was quick, which Ciwt likes. The Chicago Art Institute is Huge, smallish room after smallish room chock full of art, some of which is once in a lifetime outstanding. For instance:
You know this couple. Grant Wood's

American Gothic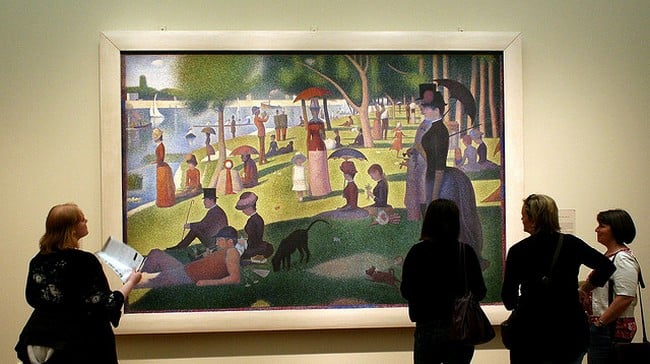 Gorge Seurat. The inspiration for Sunday in the Park with George and many other things. Very uplifting painting.
Also Uplifting, Chagall's Stained Glass windows made as a gift to the Chicago Art Institute
And at least ten more. All in all, a great art resource, and a place to go again and again if you live in the Chicago area and enjoy art. Ciwt would probably go again only if they were having a special exhibition that she couldn't see anywhere else. Chicago was fine, but it isn't New York where she is happy to go again and again, special exhibition or not.