Walk: Presidio
Distance: 4 miles, Pedal, Small Yoga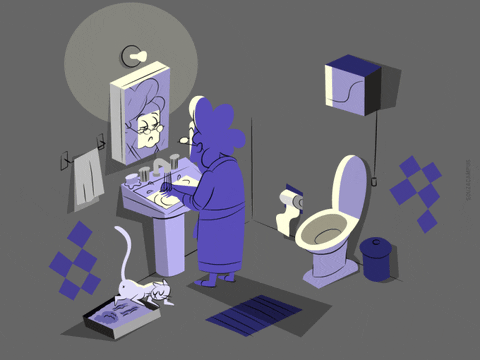 So Ciwt's father wasn't much for advice giving. The only piece of it she can remember - because he said it often - is "just establish a routine and do it." That rang in Ciwt's young ears much like the old lady rountinely washing her hands above. In other words, it had zero appeal no matter how many times she was told how marvelous that would be.
But now! - in lockdown and as old if not older that the
purple
cat lady - she would
love
to be able to establish some sort of routine. It is even her intention but keeps alluding her as she looks at the weather and thinks 'nah, a little later' to the early morning walk 'routine' she had scheduled. Instead she might open a cabinet and decide on the spot to clean it out and then get to her emails, read a chapter or two of some books, groom her cats, and finally go for that walk. Things like that, pillar to post. Her father would not approve....