Walk: Hood
Distance: 4 miles, Yoga
Odilon Redon, Guardian Spirit of the Waters, 1878, charcoal on treated paper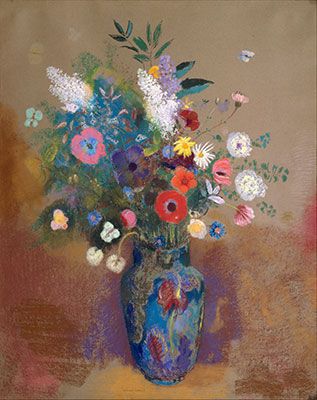 Odilon Redon, Bouquet of Flowers, ca. 1905, pastel on paper
Young artists often go through several stages reaching their statement/their look. But, once established with regular patronage, it is quite rare for them to radically change their imagery and style. Not so with the French artist, Odilon Redon, as you can see above.
From her art selling days Ciwt personally remembers the uproar from collectors when their beloved artist suddenly started making very different works. There is the sadness that they won't be able to add more of the look they like to their collections. But also shock if they have been collecting in hopes of some day selling at a profit because is often difficult to develop a following for an established artist's new style. Same goes for the gallery or dealer representing the artist.
But, again, not so Redon. The many floral still lifes that he created at the end of his career are actually among his most popular and recognizable works and have been widely reproduced. Some critics feel the bouquets of nearly floating and glowing color are simply another form of Redon's noirs as they all come from Redon's intense imagination and inner vision. Certainly more colorful, but, rather than mere elements of home decor, the flowers appear to them to be apparitions on a par with his monochromes.
Whatever the critics' or Redon's thinking, Ciwt is sure she would only have collected his new look if she had been buying art in the early 20th century. And, she would have made that profit. Oh, and she also would have bought a bunch of early Matisses....
Speaking of vivid imaginations.......