Walk: Errands
Distance: 5 miles, Yoga
So the pandemic seems to be having an effect on Ciwt's taste buds. Never one for desserts (unless it is ice cream or pecan pie), she finds herself eying the local bakery shelves much more carefully these days. And thinking of some lucious looking art. Like these galettes Claude Monet has captured with golden perfection.
Claude Monet, Les Galettes, 1882, 25.5" x 31.8", o/c
Most people know Monet was a painting genius as well as a master gardener, but they might not know that his third great obsession was food. He was also an Anglophile who loved fast cars, tweeds, tea and certain English recipes from fine restaurants. He brought those last back to Giverny where he worked with his private cook until the taste was exactly the same he remembered. He also carried vegetable seeds home in his pockets from locales where they had tasted especially delicious and was the first to plant zucchini in Normandy - which until then grew none.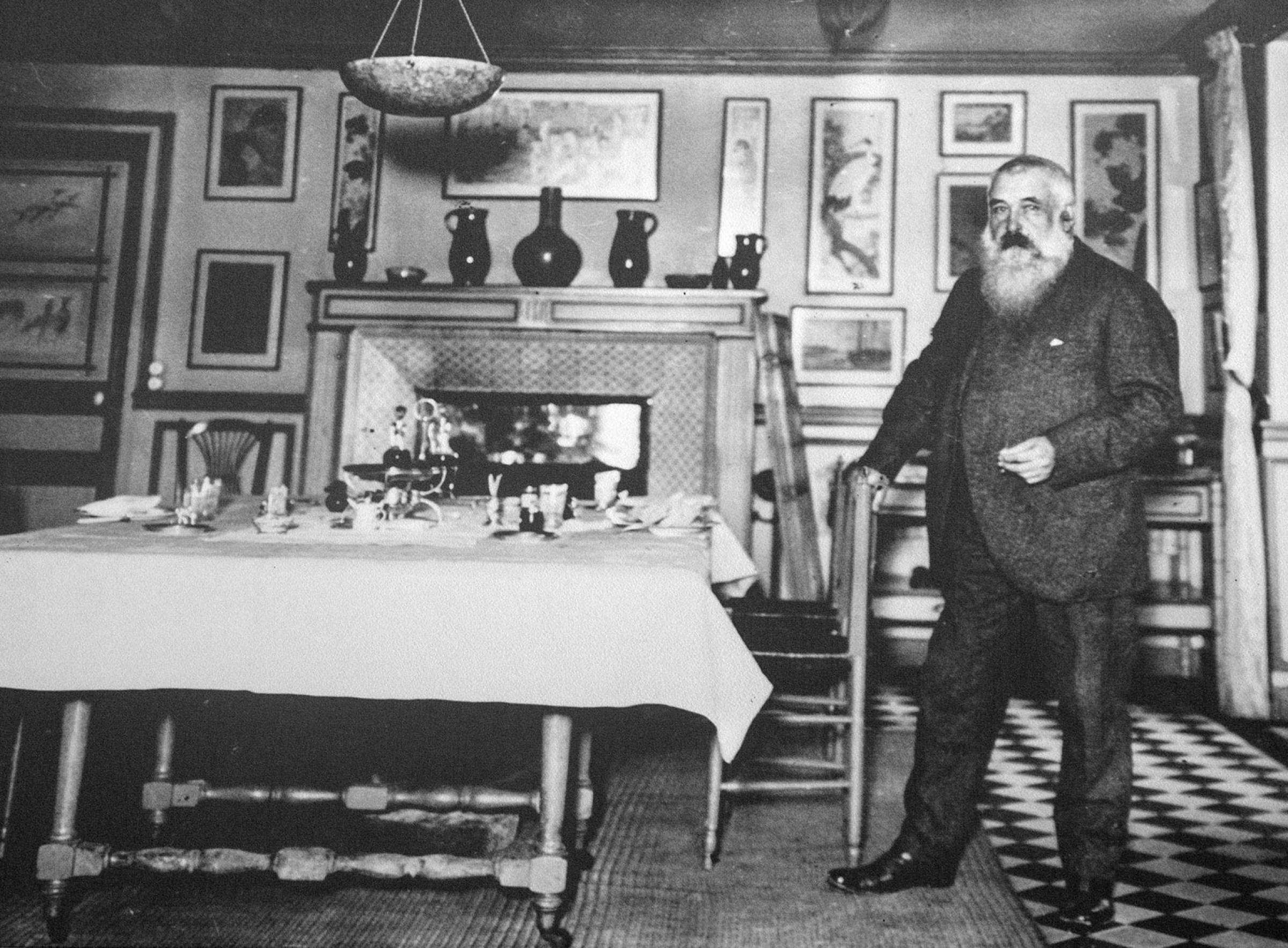 Monet in his

yellow

Giverny dining room with some of his extensive collection of Japanese prints on the walls
If she's feeling a bit too pensive for pretty galette, perhaps she will dim the lights, pour herself a glass of sherry and settle in with some grapes and cake. Like the dessert Raphaelle Peale painted so exquisitely below.
Raphaelle Peale, Still Life with Cake, 1818, o/c, 10.7" x 15.2" (Metropolitan Museum of Art)
The first really distinguished still life specialist to emerge in this country, Peale struggled with lifelong melancholy. Even his tightly grouped, spare, softly lit paintings are delicately permeated with it. Like his siblings (almost all of whom were named after famous artists or scientists), Raphaelle was trained as an artist by his artist/inventor/scientist/naturalist/and more father, Charles Willson Peale. By his early 30's he had begun suffering from the effects of arsenic and mercury poisoning brought on by working as a taxidermist in his father's museum. In deterioriating health and frequently hospitalized after that, he died in his early 50's. The paintings he left behind are exquisite. Of all the many masterpieces in his exceptional collection, the painting John D. Rockefeller, 3rd. kept close at his desk was Raphaelle Peale's
Blackberries
.
Blackberries, ca.1813, o/c, 7 1/4" x 10 1/4" (De Young Museum, San Francisco)
Or, Maybe one of these days Ciwt will decide to really dive in to those desserts she keeps walking by. And maybe that day she'll be tempted to buy all the cakes because they will all look as sumptuous as Wayne Thiebaud's astonishing artistic odes to dessert. Hopefully she'll remember they are as loaded with calories as Thiebaud's works are loaded with historic references to past techniques and artists like Morandi, Matisse (💗), Ingres (from yesterday's CIWT), Bonnard, Albers. After 60 years of daily painting (he turned 100 this year) those artists and his own "American drive' have inspired him to keep exploring the perfect formal recipe for painting a dessert in a way that it has never been painted before.
Wayne Thiebaud, Cakes, 1963, o/c, 5' x 6'