Walk: Presidio Pickleball, Moscone Convention Center
Distance: 4.5 miles, 40 minutes pickle, small yoga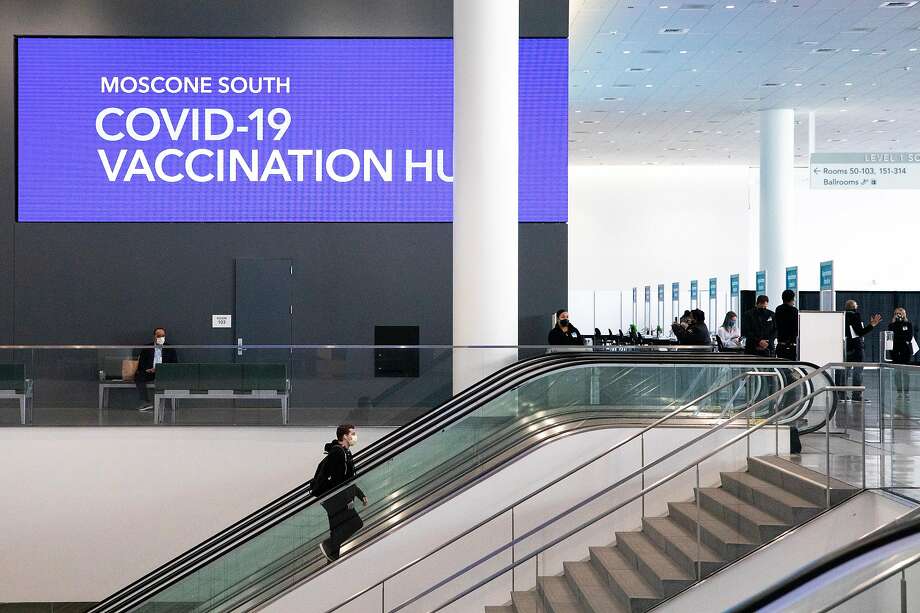 So the current buzz around San Francisco - or at least among Ciwt's age group citywide - is how the city's mass Covid 19 vaccine site is functioning.
Ciwt is guessing most people reacted like she did when it was first announced there would be one at our downtown Convention Center. "Oh no, it will be a disaster. Big crowds, long waits, confusion, maybe worse than the DMV." Ciwt definitely was going to avoid that site at all costs.
But then she ran into a fellow pickleballer who gave the experience a glowing review. He got an appointment for the next day, whisked right in, everything was beautifully organized, spacious, as safe as he could possibly want. Hmm, so Ciwt doubtfully gave the online scheduling site a try. And, yup, next day appointment, whisked right through, beautifully organized, smiling, helpful attendants galore to point you to exactly where you needed to be, no time even to crack open the book Ciwt was sure she'd need during the long wait. Basically just as described; Better actually.
And the extra nice thing is the wonderful workers who are manning the site are being lifted up by all the thank you's and compliments. When Ciwt told 'her' nurse about all the good buzz around town, she said "That's what everybody's telling us! Friends or neighbors or just strangers are encouraging others to "Just Go; it's great!"
There's another mass vaccine site at the other end of the city. A drive through at UCSF. Again, Ciwt thought "Oh no," and again rave reviews from people who have driven over and quickly, efficiently gotten their shots and been scheduled for shot 2.
So uplifting - and amazing - to have a positive pandemic experience.