Walk: 1. Presidio 2. Monday errands
Distance: 1. 3 miles, Yoga 2. 4 miles, Yoga
Minneapolis Central Library, Built 1889, 10th and Hennepin
It's a wonder Ciwt likes libraries so much when she looks at an old photo of the kind of creepy one she 'grew up' with. It was downtown which was a huge trek in many ways from her homogeneous surburban world. And not many people Ciwt knew ever went there.
She did because she was fascinated. There were always many people sitting the library's stone castle steps. And they were visibly different in various ways from those she saw every day in her home town and school. Just seeing these people opened Ciwt's consciousness, and she liked that they seemed to feel safe and welcome there. Like she was.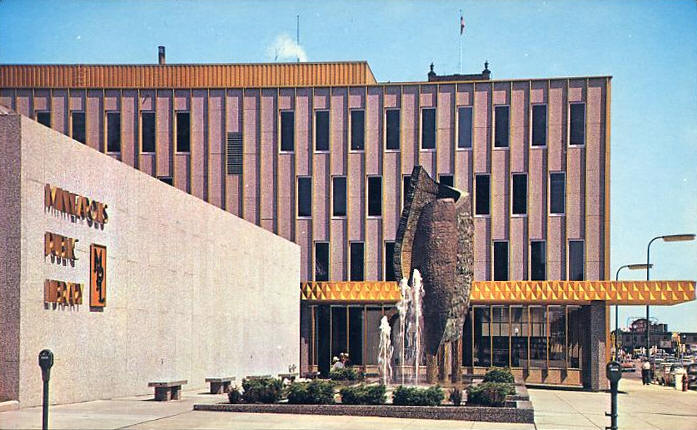 Minneapolis Central Library, Opened 1961, 4th and Nicollet
By 1961 Ciwt was away at boarding school so she wasn't in Minneapolis when they finally decided
the old library was overcrowded and out of date and built a new one. Looks to her like the people would have gathered on the outside square in nicer weather; she wonders where they went in the much more common colder weather. She also thinks she would have needed the "Guide to the New Public Library"
the 1961 library offered because the building included a library, a planetarium, an auditorium and a small museum which became famous among school children for its Egyptian mummies.
Building Two was also built like (an ugly Ciwt thinks) tank that took wreckers a long time to wrestle down when Minneapolis engaged Caesar Pelli to design the present Minneapolis Central Library.
Minneapolis Central Library, Caesar Pelli, Architect. Opened 2006, in site of 1961 building
The "New Central" has over 300 internet computers for use by the public, a huge atrium (where maybe the people hang out), a 'green' roof and a host of energy efficient measures. It bills itself as having the 'third largest per capita collection of any major American city with a collection of more than 2.4 million items - including books, DVDs, music and government documents.' Which makes Ciwt wonder how soon it might outgrow this current iteration.