Walk: 1. Presidio Pickleball 2. No, not today
Distance: 1. 3 miles, 60 minutes pickle 2. n/a, yoga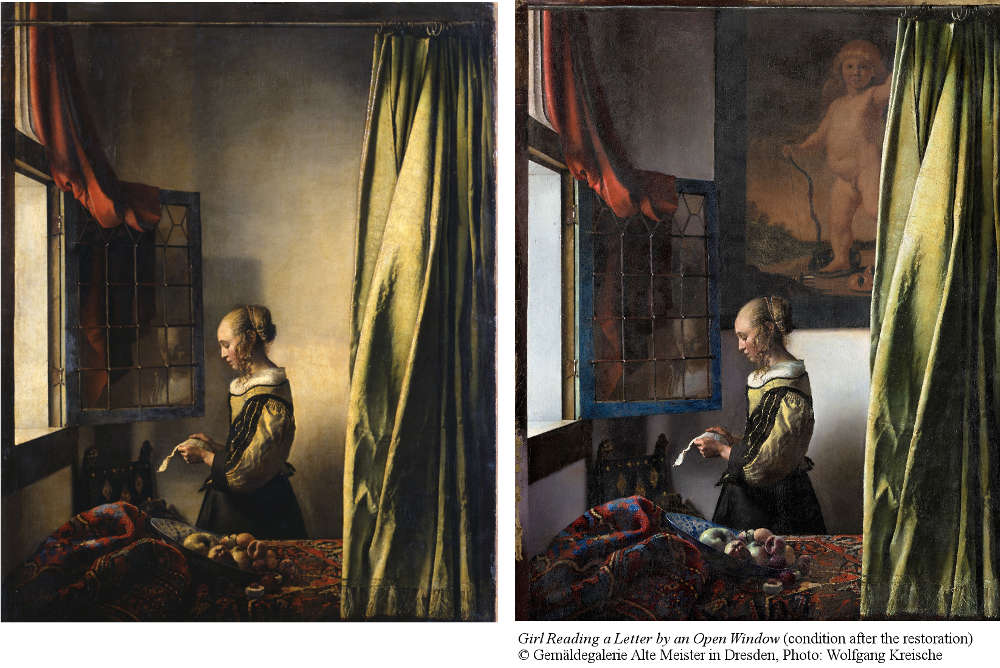 Johannes Vermeer, Girl Reading a Letter by an Open Window, 1657-59, oil on canvas - 'Old Master' and 'New'
So, how did the Dresden's Gemaldegalerie's collection come to include Vermeer's Girl Reading a Letter by an Open Window? Well, it was thrown into a major 1742 acquisition from a French collector by August III, Elector of Saxony and King of Poland. Yes, for free. And it was thought to be a Rembrandt or done by one of his pupils at the time and until the late 1800's. Now it is widely recognized as the first of Jan Vermeer's masterpiece paintings of young women in interiors.
Things change in the art world. And now there is another revelation just as significant as the French critic, Thore-Burge's 1860 discovery of Vermeer's signature on the painting. In a prolonged and painstaking undertaking by the Gemaldegalerie's restorers centuries of 'old master' lacquer coatings have been lifted to reveal the 1657-1659 work is even more of a masterpiece. Vermeer's original cool vibrant colors shine through and the details and genius of his composition are more on display.
But, the most startling discovery is a 'painting within a painting' on the wall behind the girl. It is large representation of Cupid. For years the god of love's presence was suspected, even known, by restorers and experts, but the assumption was that Vermeer himself had painted the god out before the work left his studio. Using modern technology Dresden restorers were able to discern the different chemical composition of the overpainting from Vermeer's original paint as well as the brushwork of a different painterly hand. So, the presence of Cupid was Vermeer's intention.
And, the plot thickens. To this point viewers have been invited into the intimate scene but kept at a distance from the girl's thoughts and what the letter might contain. Now, with Cupid so clearly represented, the everday scene will likely take on an amorous context as well as a more charged psychological complexity. We still don't know what the letter says, and you can be sure that ordinary viewers as well as art professionals will have divergent and probably passionate thoughts.
Ciwt suspects the 'discussions' will begin in earnest next week when the Dresden Gemaldegalerie opens its special Vermeer exhibition with the 'new' The Girl Reading a Letter by an Open Window and the details of the restoration as centerpieces.*
*https://gemaeldegalerie.skd.museum/en/exhibitions/vermeer-johannes-ermeers-girl-reading-a-letter-at-an-open-window-and-17th-century-dutch-genre-painting/