Walk: Hood
Distance: 2.5 cold, windy miles, yoga
Sir Joshua Reynolds (1723-1792), Portrait of Omai, 1776, oil on canvas
So Ciwt was reading a
Financial Times
article on the present Brtitish effort to keep Sir Joshua Reynolds'
Portrait of Omai
in their country.
*
It triggered a memory of
an encounter with another Reynolds' portraits here at our Legion of Honor.
Sir Joshua Reynolds,
Anne, Viscountess (then Marchioness) of Townsend
, ca. 1780
Several years ago Ciwt was standing near a group of museum docents in training listening to one of the trainees give an early presentation of the portrait above. The trainee mentioned all the important things about Reynolds: that he was
the
dominant 18th century English portrait painter and first president of the Royal Academy of Art. That he had steeped himself in antiquity and presented his subjects - all elites by the artist's intention - as timelessly ideal, imperialistic expansive. That he was revered as an artist and neatly all of London wept upon learning of his death.
But then...the trainee proudly pointed out that Anne's lower body way out of proportion and her hands looked like claws. Hearing this the trainer pounced! "Why did you say that?! "You can't say that?!" on and on. The poor and mystified trainee kept politely defending herself: "Because, it's true." Which only angered the trainer more but which Ciwt could see was an accurate description.
The trainer never did get around to explaining what the trainee had done wrong. But Ciwt got it with a shudder: As a docent you are Not allowed to mention anything negative about the museum's works. Even when true, mum's the word.
From that day onward Ciwt's eyes go instantly to the hands whenever she encounters a Sir Joshua Reynolds portrait. And often they are claws or entirely out of scale or just weird. But shhhhhh...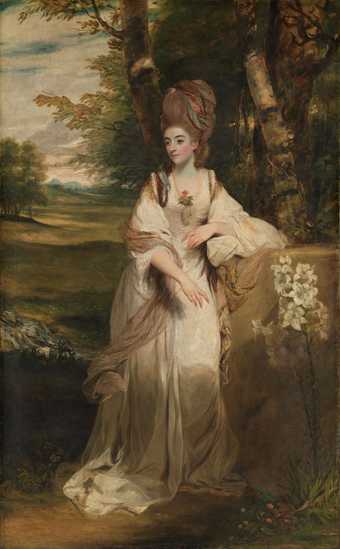 Lady Bampfylde
by Sir Joshua Reynolds (1723-1792)
c.1776
Lady Christian Acland, 1771