Walk: "Unnatural" Park
Distance: 2 miles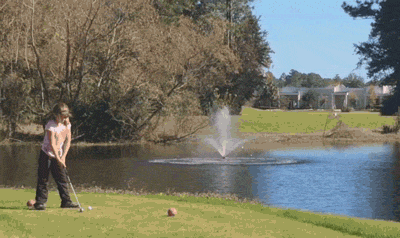 So golf season is about begin in earnest in the months ahead, Ciwt's father was in the business of manufacturing golf clothes and all her sister and brothers play golf so often it might has well be their jobs. Not Ciwt. She's a pretty good athlete in some sports but wasn't given the golf gene.
Today a friend sent her an article about a professional golfer who shot a quintuple bogey in a major tourament. (That's 5 over par). And she thought too bad she couldn't have played that hole with him - because she might have been able to beat him on.
Turns out the worst recorded single-hole tournament golf score is 23. Darn, Ciwt would have loved to have played that hole against him because she's absolutely sure she could beat that score. But, alas, the year was 1938.