Walk: Marin Furnishings
Distance: 1.5 miles
Walk One: Old Hollywood
Capital Records Building, opened 1956 (historical landmark)
The Capitol Records Building is the site of the historic Capital Studios, where Frank Sinatra, The Beach Boys, Nat "King" Cole, Sir Paul McCartney and many more musical legends recorded some of the most treasured music in history. Its studios feature underground echo chambers designed by legendary guitarist and recording innovator Les Paul. They provide reverb that lasts up to five seconds - an effect perhaps most famously heard on The Beach boys classic
Good Vibrations
.
In its time, it was often referred to as "the building Nat "King" Cole built." That's him in the center of the Jazz Mural; in spite of all the recording artists active in the building, he was by far Capitol's biggest star and money maker for years.
Like so many viewers, Ciwt assumed the round shape of the building was an homage to a stack of 78 rpm records. But Welten Becket, the architect has said, no, not so; apparently he was just ensuring that all offices would have good views.
Grauman's Chinese Theater, opened 1927





After hearing about it for many years, Ciwt was surprised at how large and busy the movie palace and its star signature-embedded concrete courtyard are today. Not nearly as surprised though as the original developers of Hollywood, Daeida and Harvey Wilcox, would be. They came from Kansas, bought the original ranch land, named it Hollywood and laid it out as a real estate subdivision in 1887. The Wilcoxes, both prohibitionists, had a dream for their Hollywood: an ideal church-building filled community based on sober religious principles. No drinking, no smoking or cards, no speeding, etc. It actually was - for a while. Then, well, .....
Walk Two: Old & New Downtown LA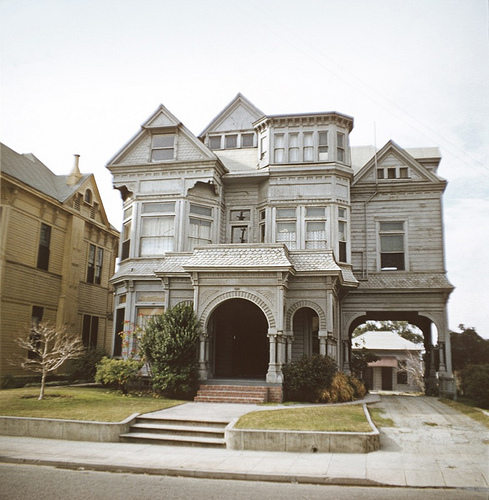 Know where you are? If you guessed, San Francisco, it would be understandable but incorrect. Until the 1950's the present site of all those Los Angeles skyscrapers and modern civic auditoriums was a neighborhood of elegant Victorian homes. But the original wealthy builders had moved on by the 1920's and wide spread urban decay had moved in. Then the Los Angeles Community Redevelopment Agency developed a drastic plan. The following pictures say it all:*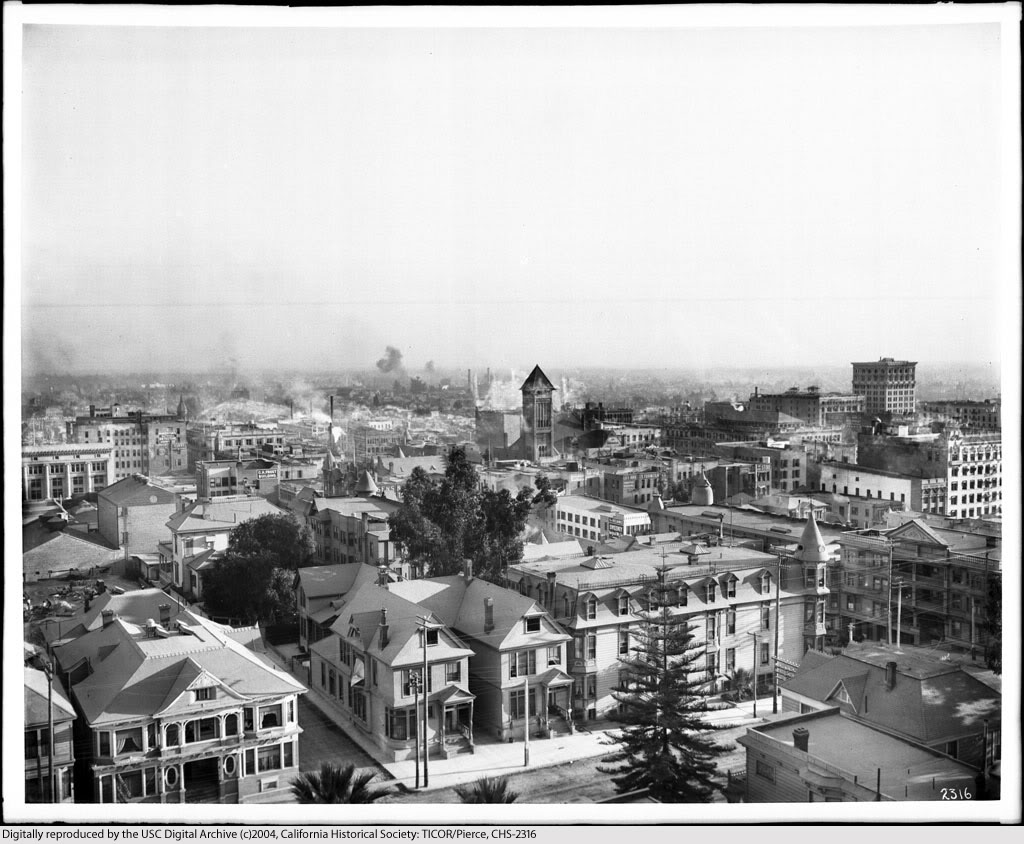 Downtown Los Angeles in the 1950's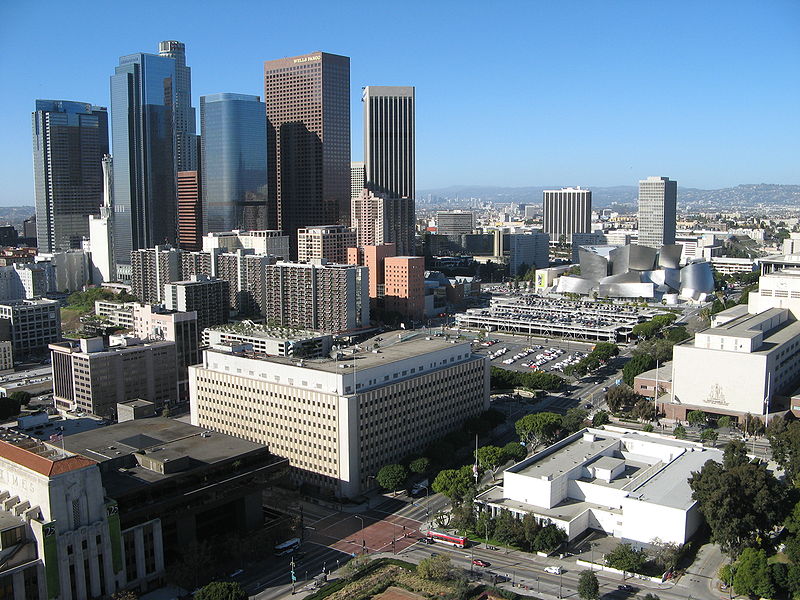 Downtown Los Angeles today - and growing
The Victorians are all gone, but Ciwt enjoyed seeing some of the gorgeous
gilded age
interiors still surviving in some of the hotels and office buildings. Like the Biltmore Hotel **below.
Biltmore Hotel Ballroom (one of several)
*
If you are interested in this history, here is an outstanding site