Walk: Windy hood
Distance: 3 miles, Yoga
Marc Chagall, Bella with White Collar, 1917
So much of Marc and Bella Rosenfeld Chagall's story is remarkable one hardly knows how to begin.
First there was the purely coincidental, electric, love at first sight and forever meeting in St. Petersburg where they both happened to be visiting. In My Life, Chagall described his first meeting her: "Her silence is mine, her eyes mine. It is as if she knows everything about my childhood, my present, my future, as if she can see right through me." Bella later wrote, of meeting him, "When you did catch a glimpse of his eyes, they were as blue as if they'd fallen straight out of the sky. They were strange eyes … long, almond-shaped … and each seemed to sail along by itself, like a little boat."
Then there was the fact that Bella Rosenfeld in her own right was as ambitious and talented as her future husband. Shortly after they met, Marc carried her in his soul to Paris as his muse and soon became one of the pioneers of modern art. Instead of pining, Bella, already a serious student and budding writer, left her family in Vitebsk to attend university in Moscow where she studied history, philosophy and literature and supplemented her studies by contributing articles to a local Moscow newspaper. To say her accomplishments were rare for a Russian Jewish girl would be an understatement. In the Russian Empire at that time Jewish children weren't allowed to study at regular Russian schools or universities. The fact that Bella's father was a wealthy jeweller probably made the difference, but Bella's drive and talents were all her own. At one point she aspired to be an actress and studied under none other than Stanislavski.
In 1914 love, and enough artistic success to convince Bella's skeptical family he would be a suitable husband, brought Marc back to Vitebsk to marry Bella. His thought was probably to return to Paris which he had already adopted and where he was stimulated and well liked by the lively artistic community. But the new couple was trapped in Russia by the outbreak of World War I followed almost immediately by the Russian Revolution and Civil War, and shortly official opinion of what was proper proletarian art made Marc's work, even his set designs, unwelcome in Russia.
So by 1922 the Chagalls left Russia with their 5 year old daughter, Ida, never to return. And, in many ways, never to be able to settle. They watched in horror from afar through the 1920s and 30s as the Jewish homeland of their youth was systematically destroyed first by the Communists then by the Nazis. At one point, at and at the very last moment, Bella rolled up Marc's paintings and the small family made an escape to the United States. Marc was welcomed to New York City where his art was already admired and sought after. But he didn't speak English and was never at ease there, comfortable only when he left their mid-town apartment and went to the Lower East Side where he could have delicious bread and speak Yiddish.
Bella had neglected her writing for motherhood and to support Marc's art, but returned to it during her years of exile in New York. Most notably she wrote a lyrical memoir in Yiddish, Burning Lights, about her childhood in Vitebsk. Then, beyond sadly, in 1944 she died of a throat infection that could have been cured with antibiotics had they not been in exceedingly short supply because of World War II.
As all who are acquainted with Marc Chagall's work know, Bella continued to be his muse and joyfully flew with him in his canvases and other works for the rest of his life.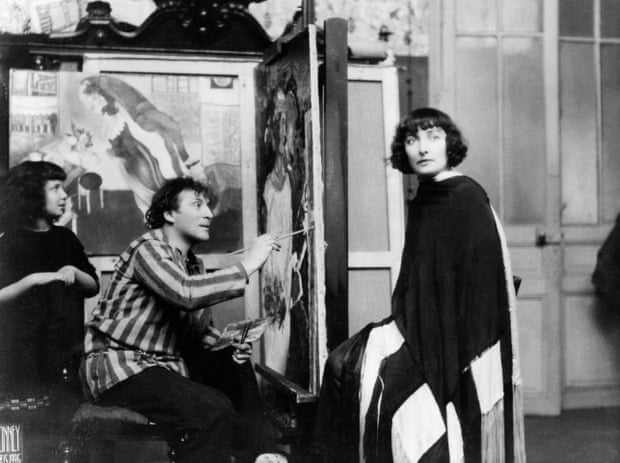 Marc Chagall painting Bella at his Paris atelier as their daughter, Ida, watches