Walk: 1. No, catch up phone calls with family and friends 2. Monday errands
Distance: 1. n/a, yoga 2. 2.5 miles, yoga
Judy Chicago,
Eleanor of Acquitane
, three test plates for
The Dinner Party
Project, 1975-78, China paint on porcelain

As is often the case, the art lover/inquirer/'expert' Ciwt wishes she was taking her annual Fall trip to New York, in this instance to go the Brooklyn Museum's installation of Judy Chicago's iconic The Dinner Party. Widely regarded as the first epic feminist artwork, it was begun in 1974, completed in 1979 with the help of hundreds of collaborators and toured to 16 venues in six countries on three continents where it was viewed by 15 million people. It began to suffer from the wear and tear of constant traveling (as well as the media slings and arrows of art and other critics) and was retired to storage for decades. Since 2007 it has been on permanent exhibition at the Brooklyn Museum.
The Dinner Party is a complex work composed of many skillfully executed parts, each of which is celebrates historically important women as well as traditionally female accomplishments such as weaving, china painting, embroidery and sewing.
There are six woven Entry Banners welcoming visitors to The Dinner Party. The principal component of the installation is a massive ceremonial banquet arranged in the shape of an open triangle - a symbol of equality - with a total of thirty nine Place Settings. Some of the 'guests' include: Emily Dickinson, Virginia Woolf, Sappho, Saint Bridget, Elizabeth I, Sacajawea, Sojourner Truth. The work rests on the tiled Heritage Floor inscribed in gold luster with the names of 999 other mythical and historical women of achievement. There are seven Heritage Panels which are hand-colored photo and text collages portraying the lives of the women whose names are on the floor. Finally there are Acknowledgment Panels that depict the 129 members of the creative and administrative team that worked on The Dinner Party.
Ciwt is not sure how she will react to it, but she would like to see it in person - and be in New York!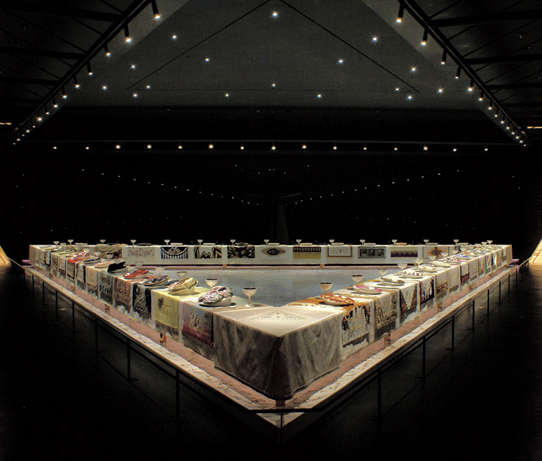 Judy Chicago,
The Dinner Party
, 1974-79, ceramic, porcelain, textile, 48' each side