Walk: Hood/Presidio
Distance: 3 miles walk/lope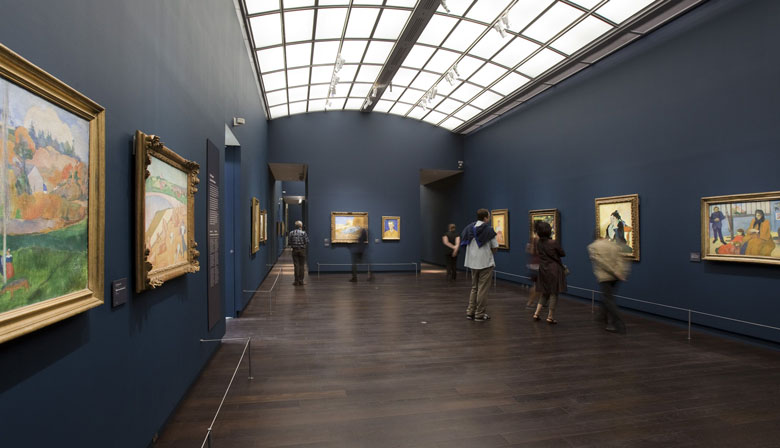 One of many Impressionist and post-Impressionist galleries at the Musee d'Orsay
It could be argued there would be no Musee d'Orsay without Gustave Caillebotte. Or that the museum would not attract as many visitors. It had 3.6 million in 2019, many of whom came for the sole purpose of viewing the largest collection of Impressionist and post-Impressionist masterpieces in the world. And most of those masterpieces were bequested by Caillebotte in his will as a gift to the Government of France.
This incredible bequest was accepted only relunctantly by the State. In fact they refused the paintings at first. Why? Well, the 68(!) paintings in his collection were by Caillebotte's friends and acquaintances whom he liked, admired and patronized. Their names included Monet (they were gardening buddies), Manet, Renoir, Degas, Cezanne, Seurat, the list goes on. Virtually all either Impressionists or Post-Impressionists which was France's problem with the collection. In 1894, at the time of Caillebotte's early death at age 45 and will, those two art forms were still considered minor, possibly a passing fad, by the powers that be in the French art world. The French state was actually quite embarrassed by the gift and reluctant to devote valuable museum exhibition space to it.
Finally, three years later, they accepted the bequest. By that time, they had culled through it, and deemed only 40 acceptable. (The rest were refused and either retained or sold by the family). Finally the Caillebotte Room at the Luxembourg Palace opened to the public in 1897, the first exhibition of Impressionist paintings ever to be displayed in a French Museum.
The rest of course is history. Much to the dismay of the French government who made an attempt to reclaim the other 28 works in 1928. The government was rebutted by Caillebotte's heirs and the works remain in private - or non-Musee d'Orsay museum - collections to this day. The original paintings from Caillebotte's legacy form the core of the Musee d'Orsay's renowned Impressionist collection. Heureusement! (ie, Luckily)