Walk: No, Rain (yay) and cold
Distance: n/a, Yoga
Pieter Bruegel the Elder, Hunters in the Snow, 1565, oil on wood, 5/3' x 3.8'
Leave it to Ciwt, a cold weather girl transplanted to California, to romanticize winter as the year begins. But, really, who cannot be completely drawn to this heartwarming winter scene painted so long ago but still so alive?


The world of the painting is locked in winter but teeming with life as huntes and their dogs bring in game for winter provisions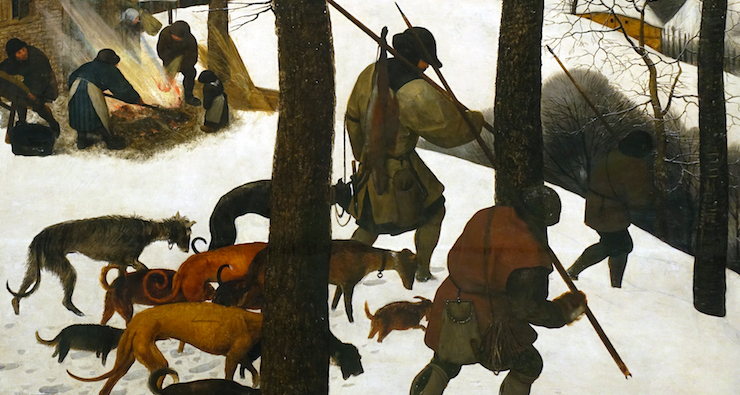 Villagers skate on a frozen pond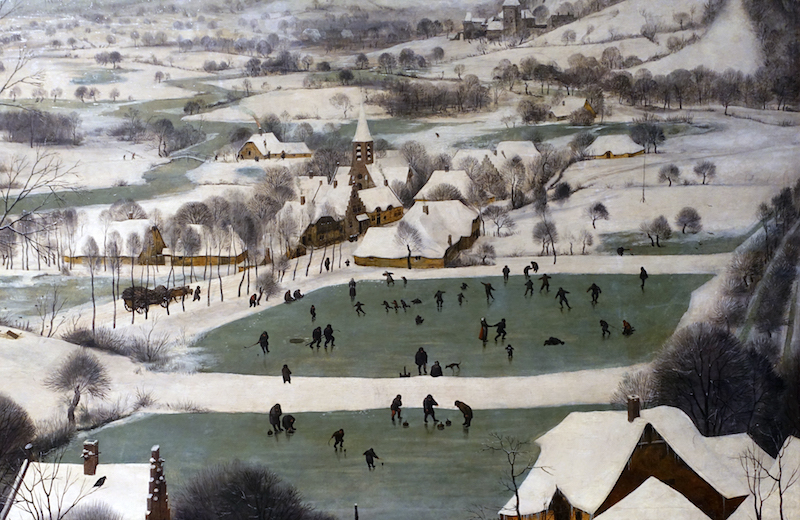 One of the most beloved and reproduced paintings in the world, Hunters in the Snow is also one of European art's first widely accepted genre painting focusing on the life, rituals, pastimes of peasants as well as the architecture and landscape of the surrounding village. And its artist, Pieter Bruegel the Elder (Dutch, ca. 1525/30 - 1569) was truly the pioneer of this form which precisely recorded details of a now vanished folk culture and also paved the way for the explosion of genre and landscape painting to this day.
But, if you spend time with Hunters in the Snow, you realize Bruegel has more in mind than re-creating every day peasant life. He has actually transformed the landscape. The Dutch landscape is flat with much of it below sea level, but that crow is flying before steep alpine cliffs. No peasant himself, Bruegel was a highly trained, brilliant artist and sophisticated world traveler. He was was also a learned humanist patronized mainly by scholars, weathy businessmen and prominent humanists such as cartographers and humanists. His vision was exceedingly complex, expansive, and his use of landscape itself to communicate an atmospheric, universal vision of the world was a first and ultimately his greatest artistic legacy.
Or forget all this just let your heart be warmed by his wonderful art work......