Walk: AMC Kabuki (JoJo Rabbit), Hood
Distance: 2 Miles, Yoga
So on her second day in New York Ciwt headed up to the Metropolitan Museum for their newish Dutch Masters show. As she entered Central Park, she encountered these huge, arresting horses, large like steeds but certainly not mighty. Also not traditonally elevated on a pedestal or grandly underneath an even more grand rider. People, including Ciwt, were just among them at their level making what each individual made of their relationship to the magestic creatures with all their psychic, fantastical, real and fictional references.
Jean-Marie Appriou, The Horses (Central Park/59th Street, Sept. 11, 2019 - August 30, 2020)
Metropolitan Museum, Entry: In Praise of Painting: Dutch Masterpieces at the Met, Ongoing
After The Horses, the Dutch Masterpieces exhibition at the Met seemed as dull as its entry. Usually the quintessence of charm and universally enjoyed by all art audiences, these 'masterpieces' are hung as a tedious, contrived, intellectual viewing exercise that nearly robs them of life. Instead of just being able to feast one's eyes and sensibilities on some of the most abundant and finely rendered art in human history, the Met insists that these long held works by the beloved Rembrandt, Hals, Vermeer and other artists now be considered 'in a thematic arrangement that emphasizes the controversies that animated the era.' Ciwt says, "puleeze..."
After the Met downer Ciwt decided to walk to the expanded MoMA which was set to open to members (including her) the next day. When she got to the heavily guarded front door
she happened to speak to one of the attendants. As their conversation progressed (and maybe he'd sized up Ciwt as a true art lover and no threat to the museum), he told her "Actually, the Museum is closed today for a private party, but, if you want to, you can go in until 2:00."
Want To!?! Hearing this Ciwt raced to her hotel to meet up with her friend who is on record as 'not being a museum person' to see if, in this rare and special instance, she could be encouraged to go into a museum. The answer was Yes! and off we went.
The guards were good for their word and let us into the Enormous, corporation-like lobby with multiple banks of elevators and hardly any art in sight. A uniformed sentry finally directed us to the correct elevators and up we travelled. Stepping out on Floor 5, the world changed utterly and began speaking art in the most interesting and beguiling ways. Gallery after gallery is arranged/presented/hung in manners that are arresting, involving, and thought provoking to all MoMA visitors from newbie to expert.
As an example, let Ciwt say that as she was briskly walking through the first gallery, it was her
non-museum friend
who became instantly transfixed by an early movie of the New York subway. Yes, movie, on the wall along with paintings, photographs, postcards, sculpture - all early fine and technological arts of a young U.S. - presented in ways that piqued curiosity but were non-intrusive to whatever the viewer might make of them.
Underwood and Underwood, President Theodore Roosevelt in Yosemite (1903), Being cheered by cowboys on horseback (1903), in Wawona, driving through the big trees of California (1903)
"Go on; I think this film is marvelous," Ciwt's friend told her. Shocked and happy, Ciwt raced off to find her artistic love, Matisse.
Matisse sculpture viewing The Red Studio (1911)
The room dedicated to him was wonderful as well as a bit audacious - like all the rooms. Just a bit: For example, see the sliver of the painting next to
The Red Studio
? It is by a contemporary artist and may or may not - depending on what the viewer makes of the relationship - echo some of the qualities of the Matisse work. And below, what is that
Parrot
?! doing in front to the Miro painting behind it? (Ciwt guesses the connection is Surrealism, but that's Ciwt).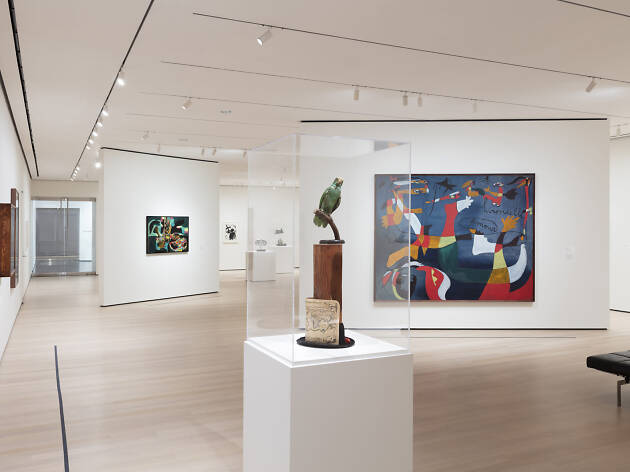 On and on the enlarged MoMA goes like this. A total winner of an art space. And this spoken by a devout museum avoider and Ciwt who disliked the former MoMA and was prepared to basically despise the even bigger and newer one.
Expect the unexpected in art, and this opportunity to have MoMA virtually to herself was just that as well as the perfect way to end Ciwt's art day in New York.